Grill Your Ass Off "Box Of Ass"
Includes all eight of our seasonings packed in REAL M2A1 AMMO CAN!
 Seasonings included - 
✅ Pop Smoke Taco & Fajita 
✅ Infidel Pork Rub 
✅ Ma Deuce Steak 
✅ Willie Pete Chicken 
✅ Claymore Cajun 
✅ Gunpowder Steak and Brisket 
✅ Crispy's Mango Habanero 
✅ Cannibal Spice
*LIMITED STOCK*
What's better than a little bit of Ass? A whole Box of Ass! The ultimate gift pack, stash box, or grilling accomplice. This Ass goes sells fast so claim yours while it's still in stock!
Customer Reviews
Write a Review
Ask a Question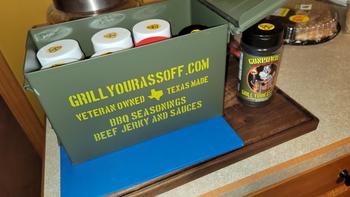 05/07/2021
Great Deal.
Extremely satisfied with the speed of delivery. I'm only 3 seasonings in but not disappointed at all! Also the large size of the seasoning makes it the price. One more thing the box sealed the deal. I look forward to more stuff in the mail in the future.
Donald C.

United States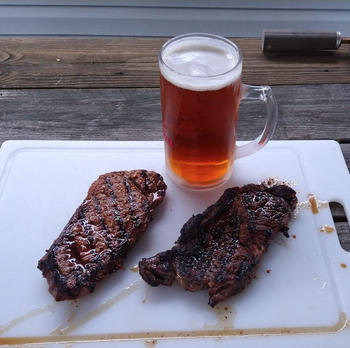 04/19/2021
Awesome Flavor
The shipping was fast. The spices have awesome flavor. I think you should change the name of the Ammo can from Box of *** to Box of Kick *** or Whoop ***!
David M.

United States
02/21/2022
The Best
Love every thing about this product. Great flavors, veteran owned and made in the U.S.
Nate M.

United States
02/22/2022
Grill Your Ass Off
Its amazing supporters like you Nate that allows us to keep making our great ASS products
02/16/2022
Good stuff
Spices were fresh and the combinations worked well
Larry T.

United States
02/21/2022
Grill Your Ass Off
Great to hear Larry, everything taste better with some good ASS seasonings!!!
02/09/2022
LOVE IT!!!
Cant wait to try recipes this weekend for super bowl!! Everyone wants my box
Monica A.

United States
02/09/2022
Grill Your Ass Off
Nothing better than sharing some ASS with everyone on game day!