What is a Challenge Coin and What Do They Represent?
The simple answer is this: A challenge coin is a specially designed coin. It's given to someone to confirm membership in an organization or group. A challenge coin can also honor a person for a special achievement. They have a long-standing tradition in military history. But the military isn't the only service that uses them. First responder services also have a history of using challenge coins, too.
The challenge associated with challenge coins varies between groups but is typically associated with drinking. The most common version is as follows:
One member (the challenger) initiates the challenge by loudly proclaiming a "coin check", or by audibly placing it on whatever surface is nearest

Those around the challenger must produce a challenge coin.

If you are unable to produce a challenge coin, you must buy a round of drinks for those who could.

If everyone is able to produce a challenge coin, the challenger must buy a round of drinks. 
Customer Reviews
Write a Review
Ask a Question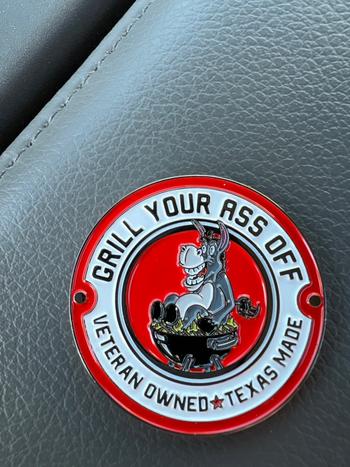 11/29/2022
Challenge Coin Review
I collect Challenge coins and this one is very cool. The only thing I would change is to have color in the back of the coin, it is difficult to read unless you tune the coin to the right angle of the light. I have shown several of my friends and they all like it too! It's a cool purchase and keeps the Brotherhood alive.
Leonard C.

United States
11/29/2022
Grill Your Ass Off
Thanks, Leonard!!!! We love the coin. We wanted to make sure the history of the coin lives on with our community of vets and first responders. Plus it's a fun time to drop coins on friends and make them buy rounds haha
12/11/2022
Challenge Coins are my collection
I really enjoy collecting challenge coins ever since I was in the Navy back in the early 70's. I've collected all type's every where I find them. This one is very nice.
Howard D.

United States
12/13/2022
Grill Your Ass Off
Thanks for all the love and support! We wanted to help keep the tradition going and we are happy to hear we can still make an impact even if it is just a small one!