NEVER RUN OUT OF AMMO
Sure, our Gunpowder Steak & Brisket Seasoning is amazing on beef, but that doesn't mean you can't use it on other meats too. Enjoy the timelessly delicious umami flavors of Texas with this great savory steak and brisket rub. It's a popular seasoning for smoked brisket, grilled steaks, and spare ribs with its incredibly rich and deep flavor. Give your chicken wings, pork chops, or fish a sprinkle of Gunpowder, the results will blow you away.
Customer Reviews
Write a Review
Ask a Question
12/03/2022
Live Gunpowder
What a great rub. My go to for beef.
Art H.

United States
12/07/2022
Grill Your Ass Off
Thanks for sharing the pictures! Just an idea when doing this, try a little Ma Deuce on the top. We call it Buckshot. Gunpowder + Ma Deuce =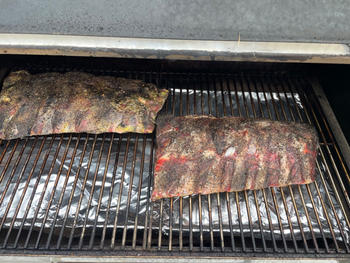 09/20/2022
Great stuff
I love gun powder on my beef ribs.
Rick B.

United States
09/21/2022
Grill Your Ass Off
Good choice! Try using Gunpowder then sprinkle Ma Deuce to top it off! Takes it to a whole new level.
10/18/2021
5 star rub
I used this rub for the first time a Tri tip it had awesome flavor wife loved it also great product
Brandon G.

United States
10/27/2021
Grill Your Ass Off
That is awesome to hear! Thanks for the support.
12/06/2022
AWESOME!
Great spices and sauces, I highly recommend them!
Garry S.

United States
12/07/2022
Grill Your Ass Off
Thanks Garry! We appreciate all the love and support.
09/15/2022
Gunpowder
I absolutely love the Gunpowder seasoning! I typically put it on last when making a tri tip. It gives it a crispy crust and adds good flavor. So damn good!
Kandis V.

United States