CannibalI is a chili-based all-purpose seasoning with a southern Texas flavor profile. This spice made its way to line up during the shutdown as an April fool's joke, it was received so well that our customers demanded that we made it an actual product! Since then, Cannibal continues to be one of our best sellers! Just before grilling or roasting your meat cuts or vegetables, sprinkle over some Cannibal All Purpose Spice and taste the savory flavor it brings. Just a dash of it transforms even soups and stews to the next level of flavor. 
Nobody wants meat without seasoning. Our Cannibal Spice is hand-crafted with a rich blend of flavors, we put our mind, body, and soul into each bottle. Once you taste the smooth yet bold flavor, you'll be pleased knowing you're helping family and friends in such a succulent way. This is an all-purpose seasoning so put it on anything and everything, except loved ones. Let the bodies hit the grill! 
---
Customer Reviews
Write a Review
Ask a Question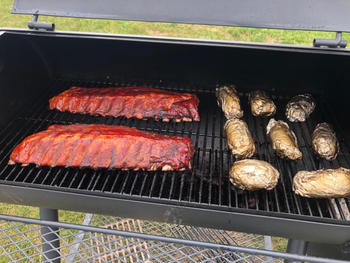 09/13/2021
Combined it with Infidel for some badass ribs.
I haven't tried this on its own yet, but I did season some ribs using a combo of Infidel and Cannibal and they were awesome! Topped them off with some RPG and I was eating good that night!
Michael B.

United States
09/18/2021
Grill Your Ass Off
Michael, We are going to need an invite next time... P.S. Cannibal goes great on popcorn!
06/07/2022
Great on burgers
I used the cannibal seasoning on burgers last week and they were really good there were no leftovers.
James R.

United States
06/17/2022
Grill Your Ass Off
James, We hope those burgers were beef and not your...
05/02/2022
Perfect all seasoning
This is out go to for just about everything. Meat, veggies, sides. Good flavor, little heat.
Christopher H.

United States
05/04/2022
Grill Your Ass Off
It makes anything taste great
04/20/2022
Unreal
I had no idea what to expect, and I was not disappointed. Used it frequently on chicken to make tacos.
Tony D.

United States
04/21/2022
Grill Your Ass Off
We made sure that it truly is the only all-purpose spice you'll ever need!
04/06/2022
Put it on everything
This is a great all around spice.
Brandon W.

United States
04/07/2022
Grill Your Ass Off
Cannibal spice makes everything nice ;)