We get it, you're old. Take the stress out of remembering the proper temperature to cook your meat with the Grill Your Ass Off temperature chart! The Meat Temperature Chart is magnetic for easy placement in or out of the house and also works as a great gift!
Customer Reviews
Write a Review
Ask a Question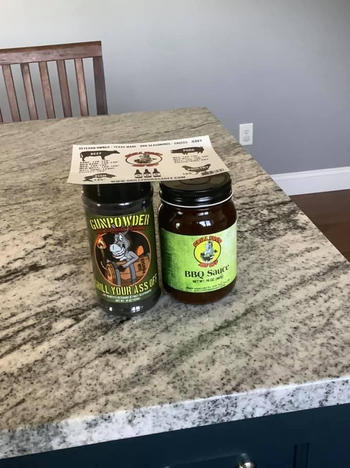 04/21/2021
Exactly what it says it is
I ordered some BBQ sauce and some Gunpowder Brisket seasoning from GYAO a few weeks ago and this temperature magnet popped up. I thought it would come in handy when grilling so I said why not and added it to my cart. The BBQ sauce was delicious btw. Haven't tried the seasoning yet.
Michael B.

United States
06/28/2022
Temp magnet
I found the Tampa helpful and accurate
Mitchell S.

United States
07/06/2022
Grill Your Ass Off
A really easy and convenient little tool every pitmaster should own!
10/28/2021
Works as is!
What can I say? It just works as intended. I own a few of these and have them around the house and garage.
Pete S.

United States
10/29/2021
Grill Your Ass Off
You never have to remember temps again!
07/06/2021
Has helped my husband greatly since we got it
My husband has used the info from the magnet both times he has grilled since getting this magnet. Our steaks were perfectly cooked both times! We tried the Gunpowder seasoning this last time and it was a hit!
Rachel A.

United States