Three sauces in one pack!
100% No-Risk Money Back Guarantee
Three sauces in one pack!
TIME TO GET WET
The Sauce Pack comes in handy when you are in the mood to get wet and wild. Use regular BBQ Sauce or add some heat with Honey Habanero. These sauces will have you licking your fingers to get every last drop.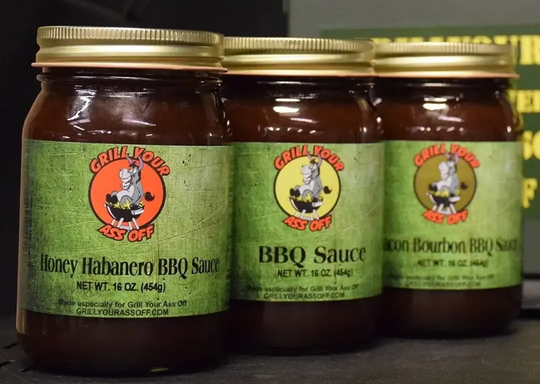 LOST IN THE SAUCE

BBQ sauce is the quickest way to perk up your meal.
Bacon Bourbon BBQ Sauce -Beautiful sweet and savory bacon flavor with the trademark "bite" of a good bourbon.
Honey Habanero BBQ Sauce -Warm Habanero flavor with a sweet kiss of Honey. Just enough heat to keep you wanting more.
BBQ Sauce -Tomato-based barbecue sauce, with just the right amount of smoke and a pleasant hint of sweet honey.
WE GOT YOU COVERED
Recommended Uses; Beef, Pork, Chicken, Meatballs, Cocktail Weenies, Pizza and more. Also slap this juicy nectar on anything you over cook and need to make consumable.
What are people saying about the Sauce Pack?
★ ★ ★ ★ ★
SAUCE PACK
KANDIS VAN GELDER on Sep 14, 2020
My family loves these sauces! My 5 year old even likes the habanero one. Its not too spicy, just enough! So good!
★ ★ ★ ★ ★
GREAT SAUCE
Mildred Johnson on Nov 17, 2018
We just love all the things I have gotten from you, I also like to buy things from good people who help Veterans, I am a veteran US Army.
Thanks
FREQUENTLY BOUGHT TOGETHER